A Note from the Editor

I hope you like the new style newsletter. We're still bringing you the best content and are always happy to hear from anyone in the recruitment space who wants us to consider including theirs. If you enjoy an article we've used please do use the new "social share" buttons to let your network know.

Alex Martin

UK Recruiter Newsletter Editor

7 Experts Spill Their Free Sourcing Secrets

Let's face it, we're all on a budget and anything that can help you find candidates AND save the budget has immeasurable value. So, the lovely people at MightyRecruiter asked seven top recruiters which free tools they turn to when they are looking for the perfect candidate.

(.. read article)

Brookson SME Accountancy: whether you want to outsource your payroll to an umbrella company or give your contractors the option of working via their own limited company we have the knowledge and experience to help you to achieve this in a compliant and efficient way. 0333 001 5179

Textkernel is the international leader in AI, Machine Learning and Semantic Technology for matching people and jobs. Improve the candidate experience, increase your ROI on sourcing and fill more jobs faster.

Schedule a demo at www.textkernel.com
When To Use An Internal Vs. Agency Recruiter
"Recruitment is a skill like any other, and like all skills it requires training, experience and discernment. It also involves developing a network of contacts and building relationships with talent. Then there are the resources involved in delivering effective recruitment.
There comes a point in your company's development when you have to decide whether you want to handle the recruitment process in-house or do you want to outsource it to a recruitment agency."
(.. read article)
Upcoming events

The Agency Branding Show - Ep. 2 with Glenn Southam
Monday November 27 2017 London 4pm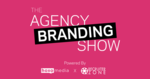 Getting Your Content Right: What is Great Content and What Wastes Valuable Time? hosted by the award-winning Glenn Southam, Head of Marketing Operations for StaffGroup. With 14 years inside similar roles, there are few that understand the role of marketing for recruitment agencies, like Glenn does.
The #SocialRecruiting Show Ep. 73: Tech Can Make You More Human!
Friday December 1st 2017 London 3pm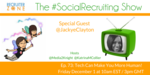 Tech Can Make You More Human! Katrina Collier, Social Recruiting Trainer & Keynote, and Audra Knight, Employer Branding Nerd, chat to Jackye Clayton, Digital Content Editor of RecruitingDaily.com, about using technology to be more human. It'll definitely be a debate!
The Talent Attraction Channel - Ep13 - Great Recruiter Experience = Great Candidate Experience
Monday December 4th 2017 London 4pm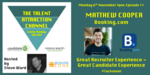 Recruiter Experience for the Benefit of Candidate Experience & Brand. Talent Attraction Strategist & Social Recruiting fire-starter Steve Ward (@cloudninerec) will be chatting with Matthew Cooper, Senior Tech Recruiter at Booking.com.
Like

(0) |




| | |
| --- | --- |
| | Curated by Alex Martin the newsletter contains tips, articles written by industry experts, a summary of our discussion board, industry statistics and relevant industry press releases. We do not allow third party's to purchase the email addresses we have in our database of newsletter subscribers. |