A Note from the Editor

Do you need to get out more?

We have many events specifically for recruiters coming up. Take a look in the Upcoming Events section below for details. Early bird tickets are available for RECex and, if you meet the delegate profile, the Directors event is free. At the moment, all these events are in London (with the exception of the Recruiter Zone online shows), but the Inspire events will be rolled out all over the UK during the next 12 months.

ClickIQ plugs recruiters into the UK's largest network of pay-per-click recruitment media, putting your job ad on the right media, at the right time, at the lowest cost per click, ensuring there is no wasted spend. Get in touch today for a demo.

RDB ProNet is the latest Recruitment Software Database Application from First Choice Software and is the Industry Leading Recruitment Platform delivering Serious Search Speed & Versatility.
Upcoming events.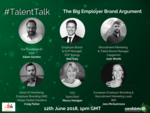 #TalentTalk The Big Employer Brand Argument
Tuesday June 12th 1pm. Online.
If you want to have an argument about employer brand and whether it can lead to placements, then you'll want to join this session! Adam Gordon will be joined by employer brand experts including Neil Daly, EB and EVP Manager at EDF Energy and Josh Worth, Recruitment Marketing and Talent Brand Manager at Capgemini. Save your slot.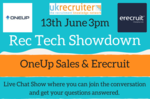 The Rec Tech Showdown - OneUp Sales & Erecruit
Wednesday 13th June 2018. 3pm. Online.
Join us for this series of show where we'll be chatting with two tech providers each week ahead of our Technology Showcase event on 20th June. This week OneUp Sales & Erecruit. Save your slot.
Recruitment Technology Conference
Weds 20th June, 10am to 4.30pm. London
Recruitment specific technology providers showcasing their offerings and giving concise demos, with expert led workshops and networking time. You choose which products you want to see and who you want to talk with. Last chance to book.
Inspire Recruitment
Weds 20th June, 5pm to 7.30pm (same venue as tech event above)
A fast paced and fun few hours; our line-up includes a dozen five minute presentations - all with the aim of inspiring agency and in-house recruiters, as well as HR professionals. Includes time for networking drinks before, during and after the sessions. Book now.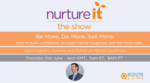 Be More, Do More, Sell More - Gavin Ingham
Thursday June 21st, 4pm. Online.
Success in sales is often down to doing the little things well every day. The challenge is to find the persistence necessary to maintain focus through the ups and downs of a career in sales. Our guest on this show is Gavin Ingham renowned speaker and author on mental toughness. Save your slot.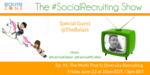 The #SocialRecruiting Show Ep. 91: The Myth That Is Diversity Recruiting
Friday June 22nd 3pm. Online.
Katrina Collier, Social Recruiting Trainer & Keynote, and Katrina Kibben, Founder & Principal Consultant of Three Ears Media (filling in for AK), will be chatting to Balazs Paroczay, VP of Global Sourcing at Cielo Talent & Founder of Edlington. Is it nonsense? Is it a myth? Is it even possible? We'll be having an open and frank conversation about diversity recruiting, can't wait. Save your slot.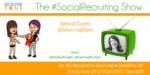 The #SocialRecruiting Show Ep. 92: Responsive Sourcing Is Good For All
Friday June 29th, 3pm. Online.
Katrina Collier, Social Recruiting Trainer & Keynote, and Audra Knight, Employer Branding Nerd, will be chatting to Danielle Kluge, Senior Sourcing Nerd for Pontoon Solutions, and discovering more about responsive sourcing. Dani believes strongly in being a human being to others and responsive to candidates, believing it helps to positively influence how people view sourcers & recruiters and also your brand. She'll share how she create a great partnership with recruiters and why she believes that the more they understand what sourcing actually is, the better it is for all. Save your slot.
Recruitment Network Directors Briefing
Tuesday 3rd July, 2pm to 5.30pm. London.
The afternoon will cover hot industry topics and discuss some of the biggest opportunities and challenges you are facing as a business leader. It's totally free to attend if you are a recruitment director or agency owner. You can book your ticket now.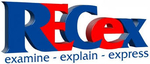 RECex 2018
Wednesday 17th July, 12.30pm to 6pm
RECex brings the TED Talk format to recruitment, with 10 of the very best speakers in the HR and recruitment space. Join us with an early bird ticket now.

| | |
| --- | --- |
| | Curated by Alex Martin the newsletter contains tips, articles written by industry experts, a summary of our discussion board, industry statistics and relevant industry press releases. We do not allow third party's to purchase the email addresses we have in our database of newsletter subscribers. |